| | | |
| --- | --- | --- |
| Paddlers | | |
| Tony Sandry (Leader) | | |
| | | |
| | | |
| | | |
---
Perfect day at Portland Bill

This was a joint IOPCC and PDCC paddle. (Tony Sandry has arranged four other joint paddles this year).

13 paddlers met on the beach below Chiswell on Saturday for the paddle around Portland Bill. The conditions were very good including the weather and tide. We were putting on about two hours before high water on a neap tide.
Along with John we took great care in launching ourselves off. Everyone else slid down the beach into the sea. In Tim's case he nearly submerged completely.
Although we had a good stream in our favour it was relatively 'calm' compared to the previous 5 times that Tony has been around the Island. Saturday was the first time that he had been able to explore the caves west of the Pulpit Rock and to go under the Pulpit.
As we paddled along to the Pulpit rock there were streams of Razor Bills sitting up on the cliffs and flying down onto the sea to feed and then return to the cliffs.
It was great fun weaving in and out of the large rocks. I added a couple more scrapes to my kayak and was in good company.
As we neared the Pulpit rock there was quite a tide running in our direction of travel. We all managed to navigate the passage between the rock and land.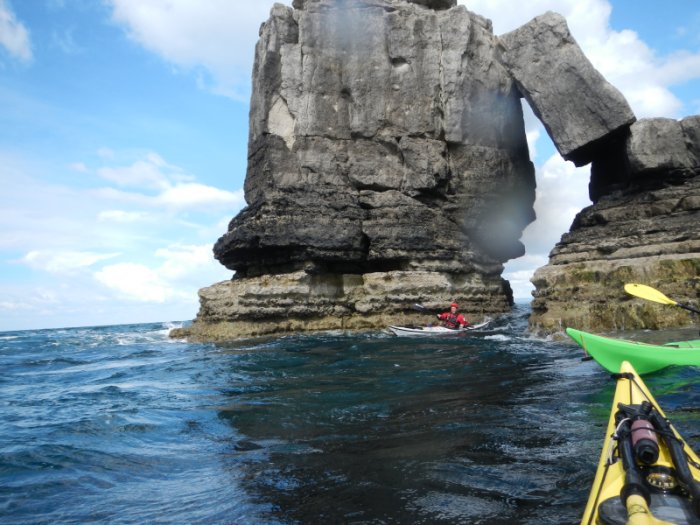 Once we had rounded the headland the conditions became very flat and we had a great time exploring the many caves.
For me a highlight was the sighting of Peregrines and probably as many as the Bill could accommodate. One had caught a largish bird and was having difficulty flying with it, another was being unsuccessfully chased by a seagull and two others were chasing a white pigeon. Fantastic!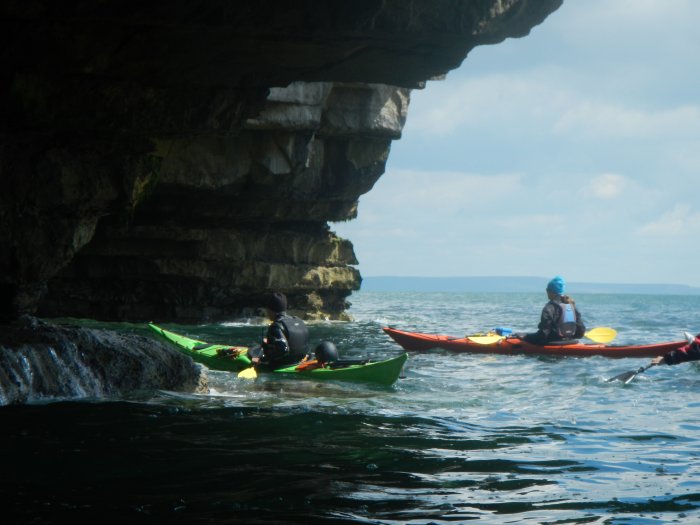 We had lunch on the first beach we came to and then made our way back to a beach adjacent to Portland Castle. We crossed the harbour into a fresh breeze which was hard work. With naval vessels in the harbour we found ourselves being approached by the harbour master with the instruction to move further from the naval ship.

The perfect day had the perfect end when Ruby offered us all a piece of the lemon sponge she had cooked for the event. Wonderful!