Paddlers
Paddlers
Guests
Jeff Hassell
Jill Franks (Official Keeper of the Gin)

Tim Simshurst

David Cotgrove
Paul Haggett

Nathan Haggett (Jester)

Michael Axler
Tina Haggett
Steve Venton
Sally Axler
Ian Hackworthy
Becky Miles
Jane Seigne (Laundry Executive)
Tony Sandry (Pasty manager)

Lynda Lattenzio
---
The Early May Bank Holiday North Cornwall club meet has become a fixture on the IoPCC calendar for several years. Our preferred campsite at Trewiston Farm gives us reasonable facilities and easy access to some superb paddling with some exposed stretches if the weather permits and some sheltered trips if the weather is less kind. The Polzeath/Rock area has always been dear to me and I love returning here every year.
It is quite odd how wide an area IoPCC draws its membership from and we had paddlers arriving from locations from Amesbury to Aberdeen.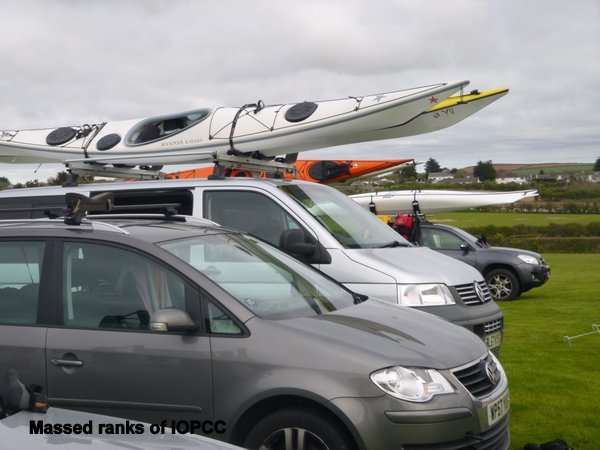 This year we were only planning to paddle on the three days from Saturday to Monday. Tony, Michael and Sally arrived a little earlier than the rest of us and managed to squeeze in an extra paddle on the Friday. They went from Port Quin to Port Isaac and back, not a particularly long paddle, but the wind made it quite challenging.
Whilst they were out, most of the remaining paddlers appeared, only Jane deciding to wait until Saturday morning to make her entrance.
When all tents had been erected, sleeping bags unstuffed and, importantly, cool boxes located it was definitely Gin 'o' clock and we all gathered to watch Jill work her magic producing cold tonic, lemons and even ice.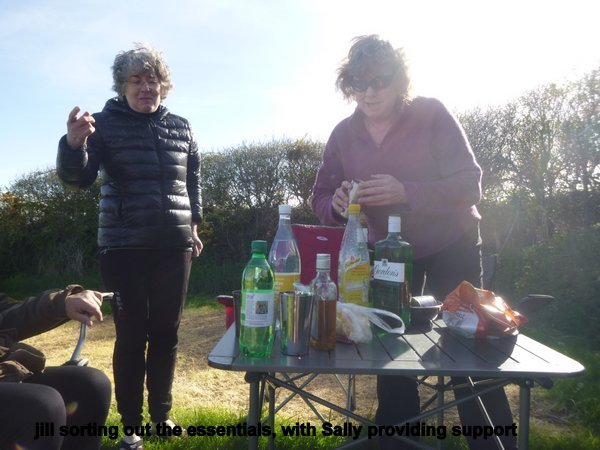 By this time Tony, Sally and Michael had returned and were more than happy to join in. Once the sun had dropped, we decided that it was a bit chilly to eat from our tents so we all wandered down to the Pityme Inn for supper and refreshments.
Saturday morning was pretty windy and there had been some overnight rain. I suspected that the conditions would be a bit rough for most of us so I drove over to Polzeath to check it out. Sure enough the conditions were pretty gnarly.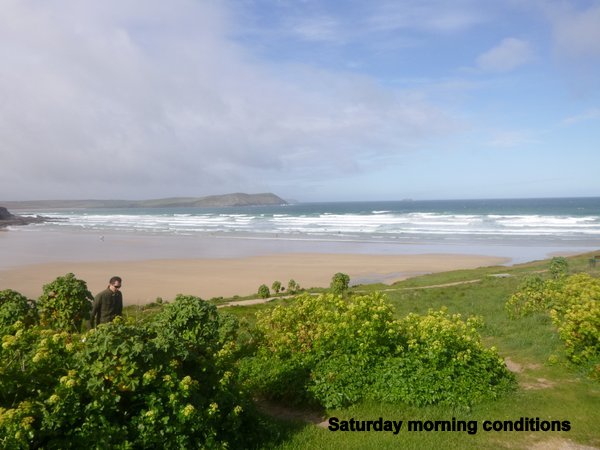 Back at the campsite we had a chat and decided to split into two groups. The majority would put in at Wadebridge and paddle down the estuary, whilst the hardier souls (Jane, Jeff and Tim) would put in at Port Quin and paddle to Port Isaac and back. Tony and I had to make a trip into Truro so were unable to paddle.
The estuary paddlers although not having to deal with big water were paddling into a steady F5 wind which made it into a bit of a slog. This is a very picturesque trip as the River Camel winds down past Rock and Padstow, ending the day at Daymer Bay which always provides an easy surf free landing.
Jane, Jeff and Tim had an altogether different experience as the pictures show. Jane found it quite an experience paddling with two people who are seemingly intent on getting within touching distance of every possible rock! Tim later described Jeff as being a head-case…he's a fine one to talk!! Take a look at Jeff's YouTube clip and see what you think.



Later back at the site Jill again showed us her catering prowess by providing the necessary ingredients for an exceptionally fine BBQ. Mackerel, burgers and assorted nibbles ensured that we were all kept happy and well fed.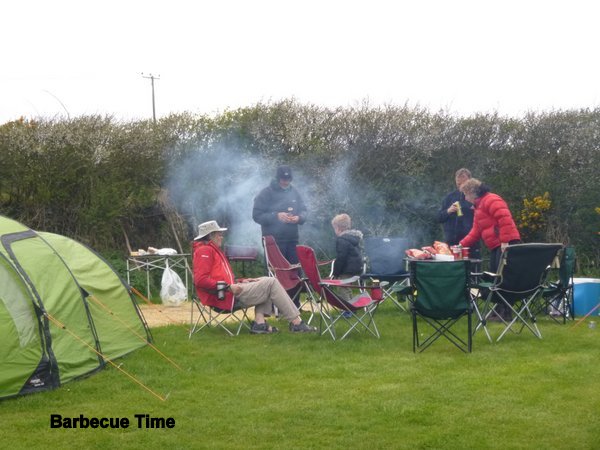 Sunday was promised to be a better day and sure enough the wind had dropped overnight meaning that we were all able to contemplate a bigger paddle. Jeff and Lynda were away competing in the Hartland Hartbreaker so would not be joining us. Instead we were joined by Steve and Becky, two paddlers from the Exeter Canoe Club who just happened to be using the same campsite.
We decided to put in at Daymer Bay and paddle to Port Quin and then on to Port Isaac if we fancied it, always bearing in mind that we had to come back again! The launch from Daymer caused no problems and we were soon crossing Polzeath Bay keeping well away from the surf line. Pentire Head was a bit bumpy but everyone negotiated it without incident. The stretch from Pentire past the Rumps to Port Quin is always lovely with plenty of interest. Today we were able to paddle out and go around the island offshore from the Rumps.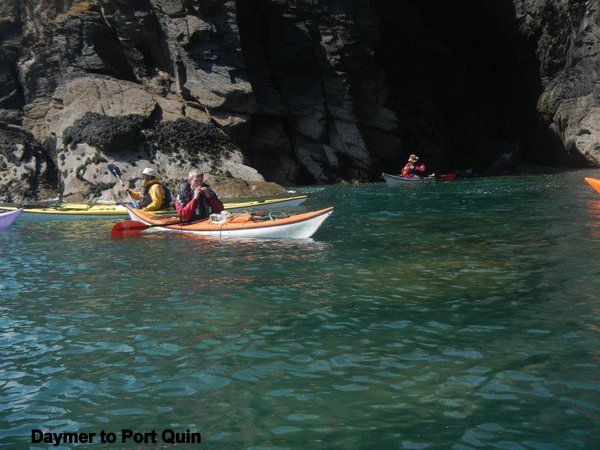 We stopped for lunch at Port Quin, where Tina let Paul have her boat and relieved him of Nathan, so that Paul was able to enjoy the rest of the day paddling. Sally decided to call it a day at Port Quin, but the rest of us set off to paddle the few km to Port Isaac. Upon reaching Port Isaac we had a bit of time to kill before we had a favourable tide for the return trip. So we lay on the slipway and soaked up the sun.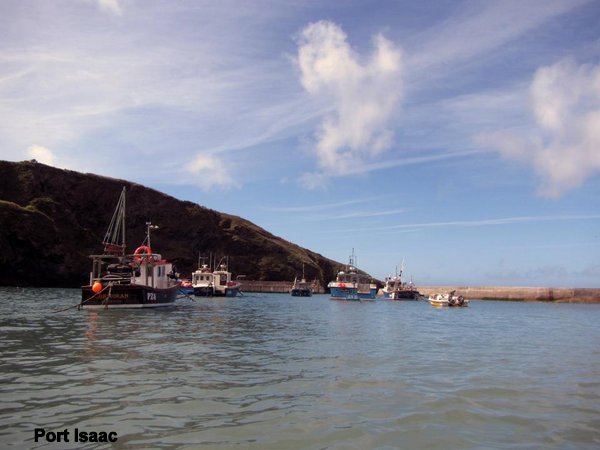 Having dawdled on the outward trip, checking out every cave, nook and cranny, we decided to take a more direct route back and took a straight-line course back to the Rumps. Here we took a 10 minute break before facing whatever Pentire Head had in store for us. Our worries were unfounded and we rounded the headland in relatively smooth water.
It was then just a case of paddling back to Daymer and that was it…a cracking paddle.
Several people had suggested that one of the paddles that they would like to do at some point over the weekend was Crackington Haven to Boscastle and back. This was coincidentally the one that I wanted to do, so that was that…Monday's trip sorted.
It made sense to head home from Crackington at the end of the day so we all took our tents down before setting off on the 45 minute drive to Crackington. Our first sight of Crackington Haven beach was not encouraging…a long carry to a pretty chunky looking surf launch…Oh Dear!
Close up the launch looked no better, so we steeled ourselves for a wet start to the day. We all made it out OK with varying degrees of success with nothing vital being washed off our decks and dentures still in place.
Passing the remarkable rock formations of Cam Beak as we turned the corner towards Boscastle we were surprised at the size of the swell…it was huge.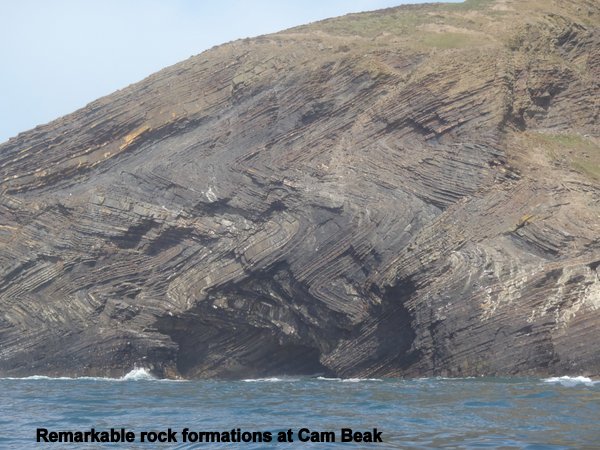 Certainly no chance of getting in close to the wonderful caves and stacks that make up this bit of coast. We paddled on keeping a wary eye out for any waves that might suddenly rear up and cause us problems. As we got nearer to Boscastle the swells seemed to diminish so we finally were able to get in closer and make the best of the features that we found and managed to meet a few of the local seals who came over to check us out. Rounding the corner into Boscastle was pretty bouncy but we all carefully made our way safely into the pretty harbour.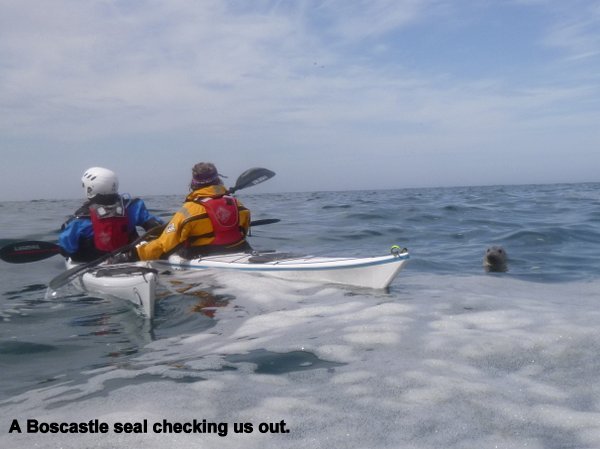 After a lunch break Sally and Jill decided to call it a day and carried their boats up to Jill's car which we had left here earlier with just this possibility in mind. They assured us that they would be at Crackington ready to help us all land.
The return trip was a much calmer affair. The tide was higher than on our outward journey and the increased depth of water meant that the swell had dropped off. We pushed on pretty quickly and were soon back at Crackington. Jeff who had led us back, called us all over and warned us that the surf that we had launched through in the morning had not abated and due to the shape of the beach had become a nasty dumping surf onto the rocky bit of the beach. Hmmm!!
So we set it up so that we had some people on the beach to help people out of their boats and Jeff would wave paddlers in one at a time. Let the carnage begin!!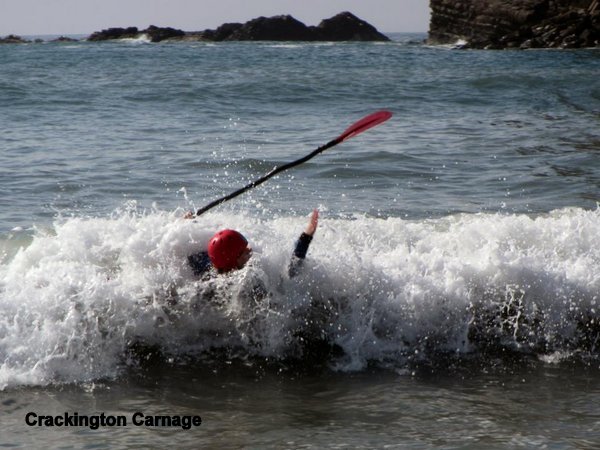 Carnage it was! One by one we awaited our chosen time grim faced. Sitting out back, you could hear the cheers from the beach as paddlers successfully landed and groans when they swam. I'm not going to name names…apart from one!!
Tony was being a real saint and was accompanying another paddler in to the melee. All was going well until one bigger wave came along and picked him and the other paddler up and surfed them in hard and fast. Tony's boat nose-dived and buried its nose into the shingle and front looped. It looked dreadful from where I was sat, still waiting out back. However I saw him get fished out apparently none the worse for wear. His boat however faired less well as you will see from the gallery pictures and this YouTube clip that Steve has put up. I particularly like Tim's 'hands on head' reaction and David's athletic wave leap!!
So that was it. Another brilliant IOPCC long weekend. A bit bruised and battered, a bit sunburnt but everyone was still smiling and a beer in the sun at the end of it all made everything just perfect.
Thanks to everyone for coming, but special thanks to Jill for the BBQ and for providing ice for the G&T's, Jeff for sorting out the Crackington landing and Tony for being the only responsible person in sight!
Oh, and I make no apologies…Jane and Jeff, I have nicked all your pictures and videos for the gallery and this report!!