| | |
| --- | --- |
| Paddlers | |
| Barbara Hackworthy | Paul Losse |
| David Cotgrove | Michele Losse |
| Jon Massey | Charlie Hepworth |
| Ian Hackworthy | Lucy Gill |
| Clive West | Michele Springall |
---
The tides were right for a last paddle around Portland Bill for 2013. We had had quite a long period of light winds and flat sea so there were high hopes that this would continue.

Breezy was the forecast of the general weather forecast on BBC and this was confirmed with Force 3 – 5 with Force 6 later from the Met Office Inshore Forecast. Nevertheless we met at Chesil Cove as Planned at 08:30. A brief peek over the wall told us all we needed to know. It was definitely Plan B. There was large dumping surf and a very lumpy sea with far too much whiteness to consider a safe passage for 10 paddlers around Portland Bill in the chilly December water.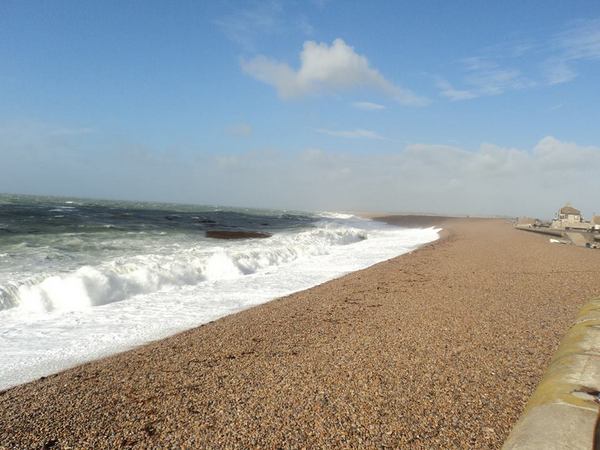 Not a good day for the Bill

Plan B was to paddle from Bowleaze to Ringstead. Not the most exciting section of our Jurassic Coast but it was only a 15 minute drive with free parking and good access to a beach with an easy sheltered launch. It was much more sheltered on the East side of Portland. The coast to Ringstead offered many places to land if necessary, with minimal tidal flow and no moving water.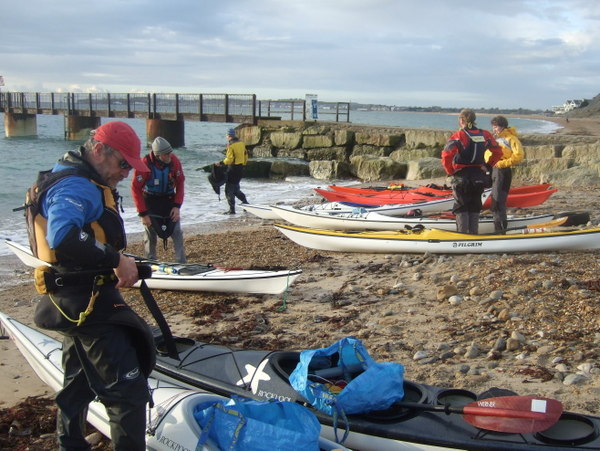 Getting ready at Bowleaze Cove
It was breezy and this served us well on our outward journey. There was the usual problem with the following sea but generally all coped well and we passed Redcliff Point without incident and were blown down the coast, passing Osmington Mills, to Ringstead.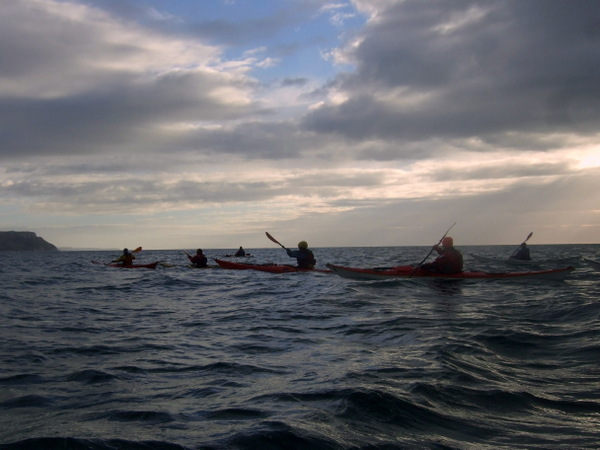 On the way to Ringstead
The sea state had increased a little and there were some waves which made the landing onto the steep shingle beach at Ringstead quite interesting.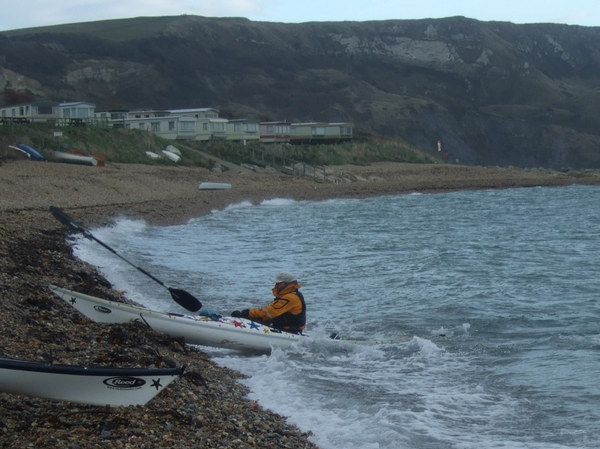 Jon Massey 'landing' at Ringstead

The weather was quite warm and we were able to relax on the beach having an early lunch and make some adjustments to Charlie's skeg.

Maintenance on Charlie's broken skeg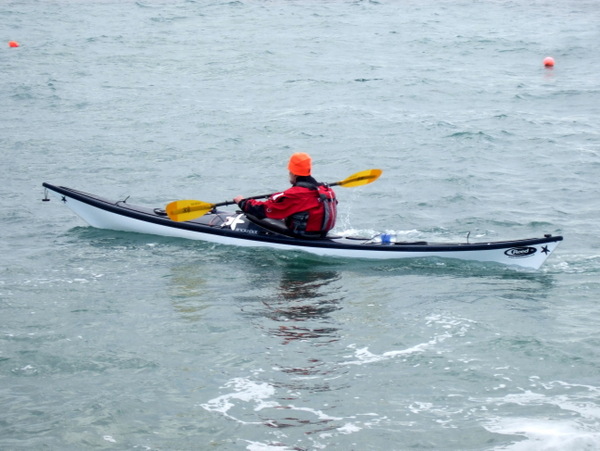 Paul trying different boats.
Paul – in the market for a new boat – took the opportunity to sample those he fancied.

Launching again back into the waves provided some excitement – especially for those who went in stern first.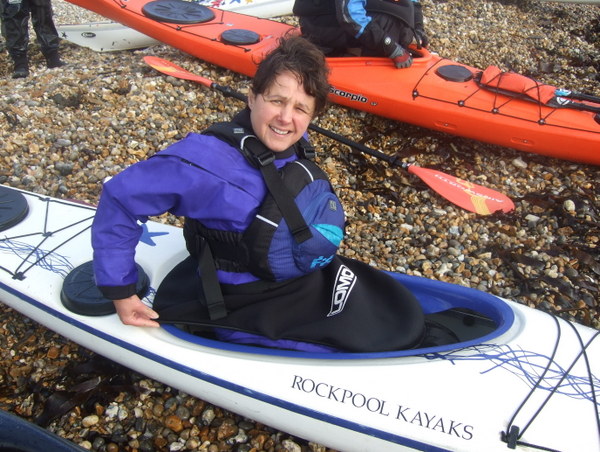 Michele L. getting ready to launch at Ringstead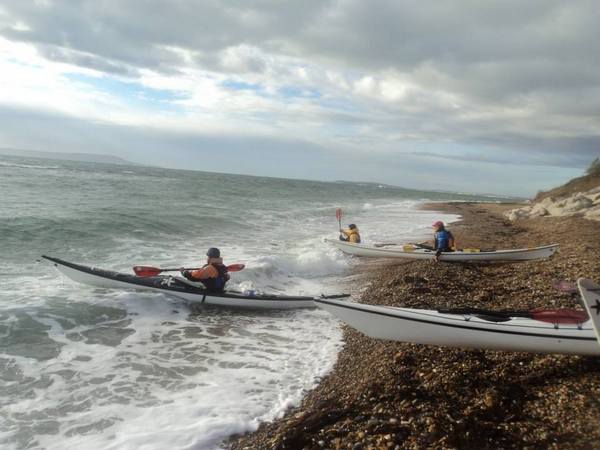 Barbara launching at Ringstead
Paddling back took a lot longer and was quite bouncy in places with occasional freak waves that took some by surprise.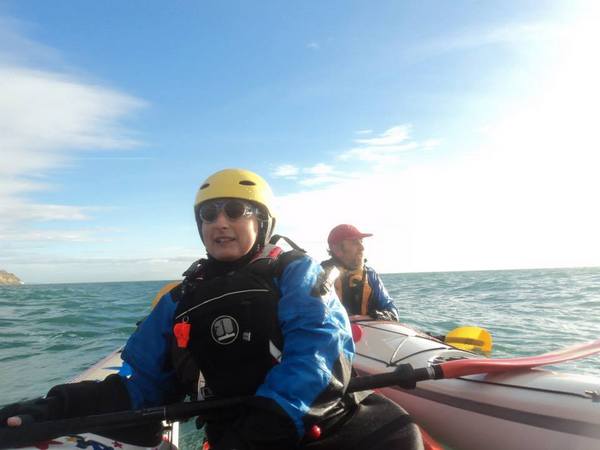 Michelle S. on the way back to Bowleaze
All avoided a swim though and after a slog into the breeze which was quite enjoyable in the December sunshine we arrived back at Bowleaze.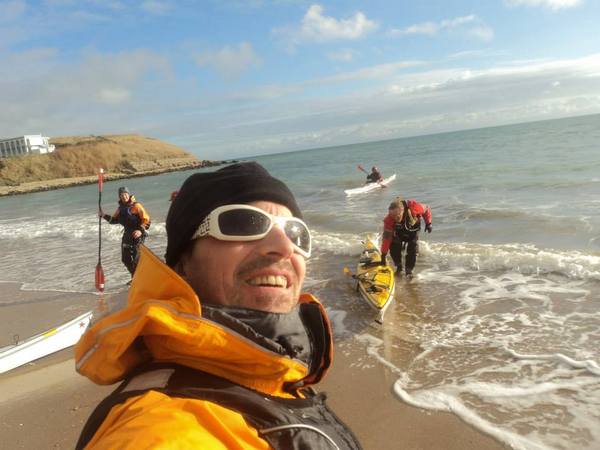 Jon Massey.

This wasn't the paddle we hoped to do, but we all had a good day out on the water and returned safe and sound without incident.