| | |
| --- | --- |
| Paddlers | |
| Tony Sandry | |
| Richard Bate | Joe Chamberlain |
| David Cotgrove | Steve Earle |
| Liz Bissett | John Hinchcliffe |
| Peter Bissett | Dave Parker |
---
This was not going to be a re-run of last year's Bivi at Whitecliff Bay.
For most of the week, the Inshore Water's forecast had a red line around The Island and was forecasting gusts up to F6. Other websites, as is often the case, were forecasting a maximum of F5. By 8.30 on Saturday morning the strong wind warning had gone and gust of up to F5 were predicted.
Twelve paddlers in total had signed up, but illness and work commitments resulted in a total of nine making the trip.
We left a bit late because Peter and Liz thought that the other had packed the spray decks. Joe and Steve came to the rescue, collecting some spare decks from Joe's house.
We were setting out from Southsea (Eastern sea front) and decided to paddle as far as the pier before heading for Bembridge. It was tiring work and the wind was consistently at 4/5 until we closed on the island.
After having a short break next to the Lifeboat Station (in retrospect it should have been a long break), we headed off again. Because it was low water we had to go outside the Ledges (ref). The headwind again made progress painfully slow.
Steve and Richard suggested that a better (sandy) campsite was available just before Whitecliff Bay. Getting to it, however, was a little problematic and involved scraping through a narrow gap in a reef and then a treacherous (potentially ankle twisting) walk across slippery bedrock to the beach. Peter and Joe waited for the tide and had a shorter and safer carry.
This site has some interesting material stuff on Bembridge and it's geology.

The previous year, we had paddled on to Sandown, had a leisurely ice cream and a coffee before heading back to the beach at Whitecliff Bay. The tide would by then have substantially covered the bedrock. Today we didn't have the luxury of that as a possibility, because of the wind.
Note to self for future trips:-
If we have light winds, go on to Sandown (or beyond) and then come back when the tide is up.

Leave Portsmouth later (tide permitting).

Stay at Bembridge for a couple of hours before carrying on.
I abandoned any attempt at putting up my small tent. It was years since I had last used it and my brain went to 'mush' when all the bits fell out of the bag. Although Ray Mears would have been ashamed to see my attempt at a bivi, it did manage to stay up overnight.
Steve busied himself getting a fire organised, as there was plenty of wood available. Unfortunately, he had not read the runes with enough care.
The beach was a very narrow strip of sand and shingle, with several tide lines. The most significant line was a wall of seaweed about a foot (300mm) high and we presumed that this was the HW mark from this morning's tide. Joe consulted his tide tables and said that tonight's HW would be about 300mm higher. This resulted in a competition to guess where tonight's tide would reach. As HW would be about 22.00, those of us who have a habit of crashing out early decided it would be prudent to stay up until we could see the start of the ebb.
The first fire was extinguished by the advancing sea, so another was hastily built further up the beach. The wall of seaweed was breached by water flowing under it and waves crashing over. An occasional bow wave from a passing ship made a decisive impact on the wall's integrity.
Launching at close to HW was a pleasure, after yesterdays protracted carry across the rocks. We had light winds and paddled close to the shore at Bembridge. There are a couple of elegant sculptures that are easily seen from the water at high tide. Last year I took a picture of the Dolphin. Today I wasn't expecting to see the Giraffe and lost the opportunity of taking a picture of it. I have since looked online, but can find no reference to it.
I did, however find this link which has a good photograph of the Dolphin and a few other shots of the Bembridge area.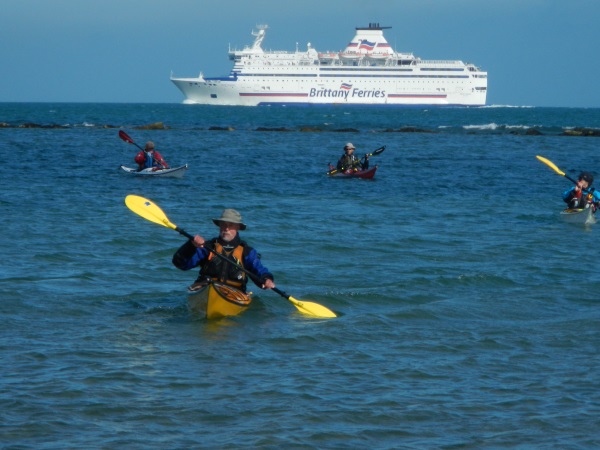 After Bembridge we headed for the Warner red buoy and then crossed the shipping channel to the green marker. There was little traffic about. The wind was stronger than had been forecast and it created some lumpy conditions. For the last hour there was a noticeable drift to the West and we had to change our bearings to compensate. The return journey took about 3 hours.