Early on Sunday morning nine paddlers ventured north to sample the thundering surf of Widemouth Bay in Bude. Surf reports did not look overly optimistic despite high wind and rough seas earlier in the week, but we decided to go anyway as there was bound to be more than in Weymouth.
The day did not look promising with an early morning frost and the usual build up of rain clouds as we approached Honiton. Things improved as we made fast progress with no traffic problems and without getting lost. The omens improved further when the beach café opened just as we arrived and coffee and bacon butties brightened the prospects markedly. The day continued to improve with some nice clean waves and a bright blue sky. The beach was unusually quiet with hardly any board surfers and paddlers in the majority- surf probably not big enough for the hard-core locals.
Much riding of waves followed accompanied by occasional swimming although not nearly so frequent or as painful as the whitewater swimming practice of previous months. Bertie, Steve and Matt showed off their skills in their glass-fibre surf boats while the rest of us did our best in the plastic. Ken demonstrated his patent T-Bone rescue to good effect and a fair amount of rolling was evident.
The surf had been about 12feet by the time we got back to Dorchester (measured in the 'proper way' from the sea-bed to somewhere above the crest of the wave). The day was unfortunately without any real drama or tragedy, although we did scour the beach for possible accidents and photo opportunities but everyone enjoyed themselves and returned exhausted which all adds up to a pretty damn good day on the water, which is what it's all about.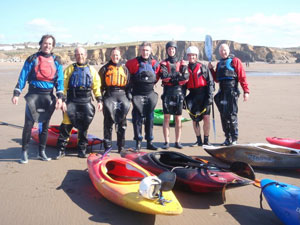 Dave, Ian, Barbara, Ken, Matt, Jake and John.
John and Ken
ready to rumble
Bertie, one of the
fibreglass hotshots
Barbara, getting serious.
Ken...he just smiled all day!
Dave, taking it easy.
Steve. Ready to make the rest of us look rubbish!
Barbara, battling out for
another ride.
Ian riding high, just before yet another swim!
Ken
John and Jake

---