| | |
| --- | --- |
| Paddlers | |
| Barbara Hackworthy | |
| Ian Hackworthy | |
---
The last night in July 2015 had the rare occurrence of a blue moon. When one of the astronomical seasons has four full moons, instead of the normal three, the third full moon is called a Blue Moon.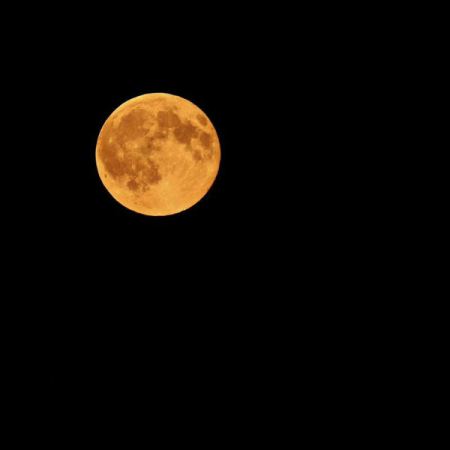 Blue Moon
(Courtesy of Cathy Warne dorsetflickr.wordpress.com)
The weather was nice so we decided to take the opportunity to paddle our sea kayaks along to West Bay. Then take them for a short walk to be able to paddle up the River Brit as far as possible.

As we prepared to leave the beach at Burton Bradstock at about 19:30 the sea was boiling with unusually high numbers of Whitebait. Mackerel chase the whitebait for food causing them to jump into the air. The strand line on the beach was silver with thousands of dying little fish.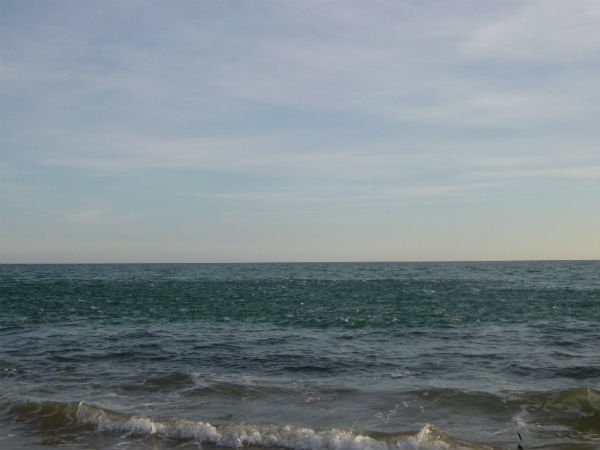 The sea boiling with whitebait
The sun was already low in the sky as we paddled along the iconic sandstone cliffs between Burton Bradstock and West Bay.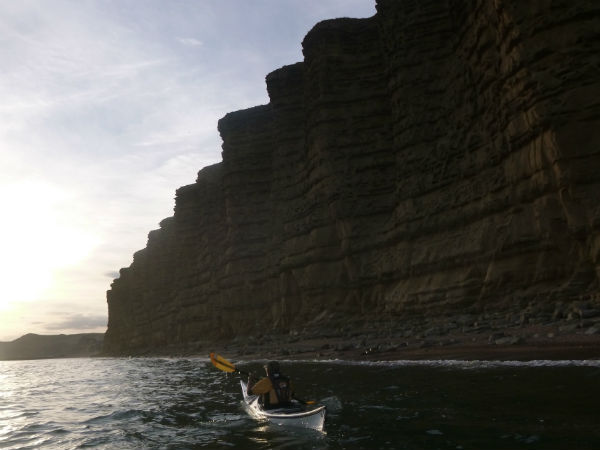 The sandstone cliffs of West Bay
We were pleased to meet up with Louis, out for a blast in his Legend Surf Ski. He couldn't stop as his boat is built to go very fast in a straight line not to sit around chatting. Off he zoomed out to the Black Buoy.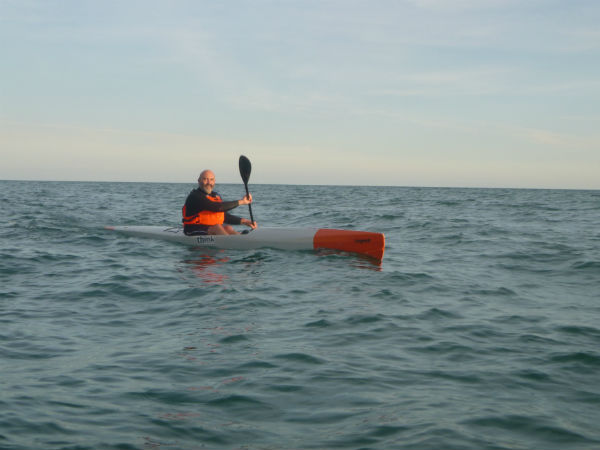 Louis
We pottered on to West bay and paddled to a small slipway at the back of the harbour where we got out.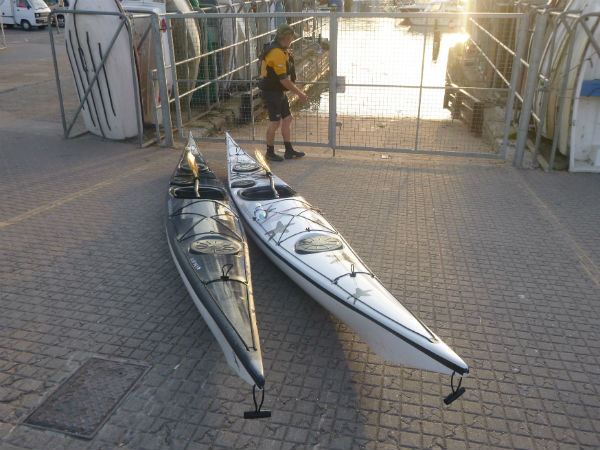 West Bay harbour
We then crossed the road and put the boats into the River Brit and paddled up the river. It is surprisingly calm and peaceful up the river and it feels quite wild and remote considering it is so close to an urban area.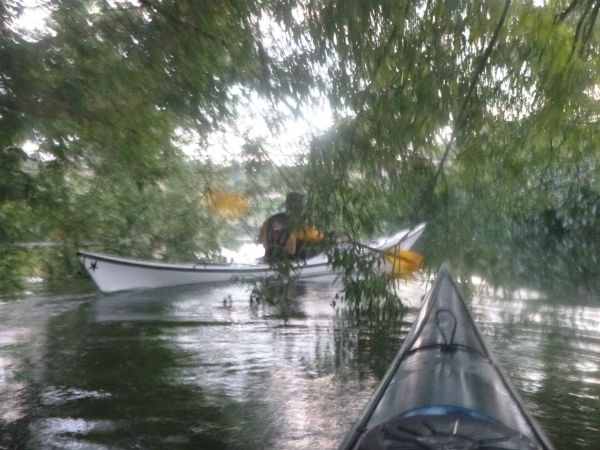 The River Brit
We saw a water vole but I was too surprised to get a picture of him.
We paddled up the river as far as possible until we reached a weir at Palmers Brewery.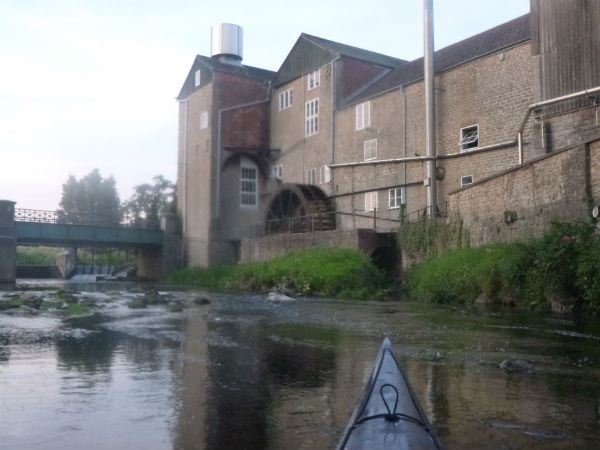 Palmers Brewery
As we headed back downstream towards West Bay the Blue Moon made its appearance.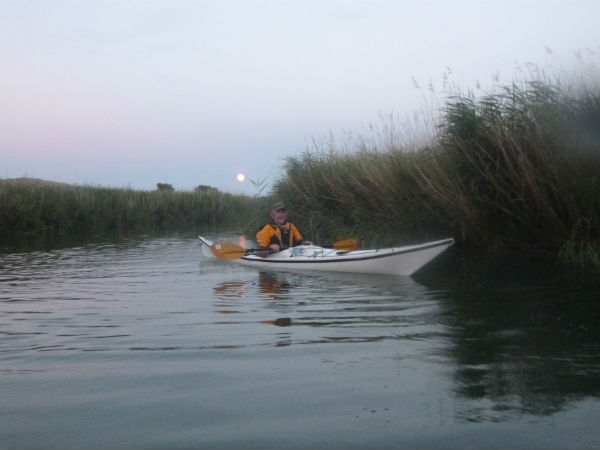 Blue moon rising
It was a really special to be on the river as the moon came up. It was very quiet and peaceful and felt quite remote – though in reality we were only a few hundred metres from West Bay (aka Broadchurch). Once again we carried the kayaks between the river and the harbour. The sun was setting as we paddled out of the harbour and onto the sea again.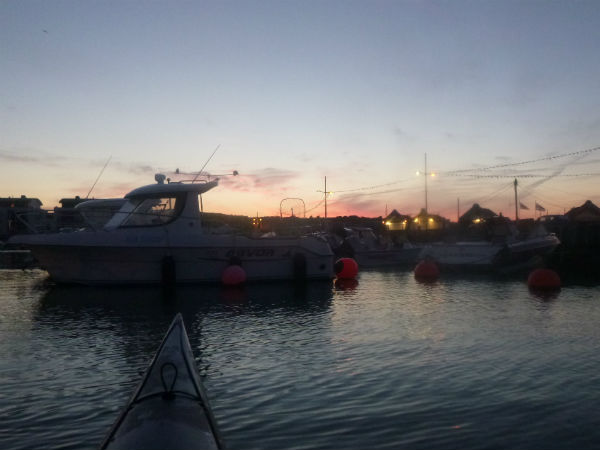 West Bay harbour
It was quite exciting paddling home again in the dark. The breeze had strengthened which had picked up the waves a bit. Easy in daylight, but not being able to see what was coming kept us on our toes.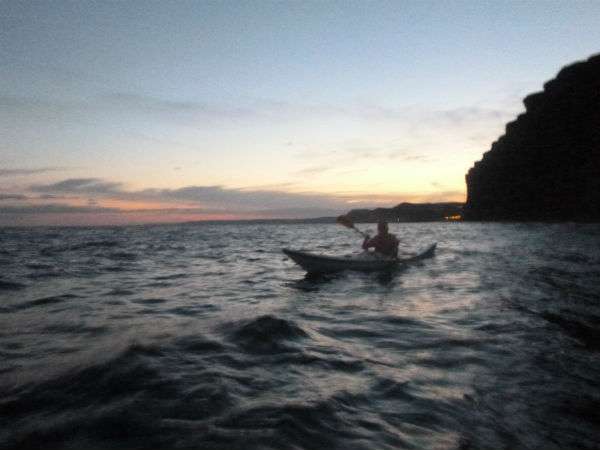 Paddling home to Burton Bradstock
The moon rose higher in the sky as we followed the cliffs home to Burton Bradstock.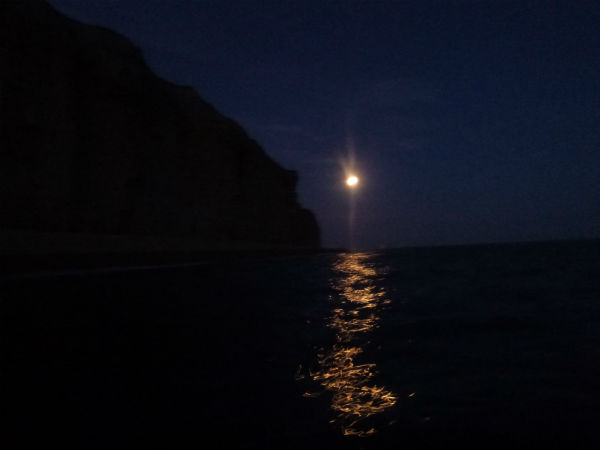 The moon lit our way
We decided that our outing counted as an adventure!